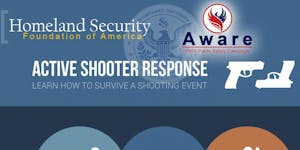 Responders and the general public are invited to attend a free HSFA Aware discussion on Active Shooter Awareness & Preparedness in Des Moines, Iowa with Keynote speaker Randall C. Thysse, Special Agent in Charge (SAC), FBI Omaha Division.
SAC Thysse is a driven Law Enforcement, Intelligence, and National Security Federal Executive who started in the insurance industry and later joined the FBI. His experience in fast-paced, constantly evolving environments encompasses all aspects of strategic business development, team leadership, and contingency, physical and information security risk management. Working for the FBI for more than 25 years he has gained intimate knowledge about cyber security, data analytics, information system development, computer forensics, surveillance, counterterrorism, counterintelligence, covert technical applications, and intelligence programs.
Some of the topics to be covered during the 3-hour town hall discussion include:
RUN / HIDE / FIGHT
School Lockdown Policy
Risk scenarios & planning
Profile of Active Shooters
Benefits of public / private partnerships and more.
DOWNLOAD HSFA AWARE FLYER (1-pg PDF)


DOOR PRIZE: Lakeside Hotel and Casino has provided a free staycation (1 x night stay, double occupancy and 2 x free buffet meals), which HSFA will give away as a door prize (no purchase necessary, this is NOT a fundraiser event or a raffle).
Click here to get your free tickets to HSFA's town hall event on Sep 26, 2018 from 9a - noon.

About Homeland Security Foundation of America:
HSFA has an important mission: to advance hometown security while protecting civil liberties. HSFA accomplishes their mission by working with local, state and Federal agencies, organizations and communities to deliver life-saving public safety, energy security and health and human services programs to the public. HSFA is not a government agency.