Below is a brief overview and timeline of events as of 1330 Eastern 19-Apr-2013 per NYT and Time.com (overnight shootout data starts at bottom). The manhunt for second bomber is still on-going and I'll try to post updates using comments section, but please feel free to add your input and/or comments as well... j
===
NYT reports... one of the suspects in the Boston Marathon bombings was killed early Friday morning after leading the police on a wild chase after the fatal shooting of a campus police officer, while the other [the younger brother] was sought in an immense manhunt that shut down large parts of the area.
Gov. Deval Patrick of Massachusetts said residents of Boston and its neighboring communities should "stay indoors, with their doors locked." ...
Officials said that the two men were of Chechen origin. Chechnya, a long-disputed, predominantly Muslim territory in southern Russia sought independence after the collapse of the Soviet Union and then fought two bloody wars with the authorities in Moscow. Russian assaults on Chechnya were brutal and killed tens of thousands of civilians, as terrorist groups from the region staged attacks in central Russia. In recent years, separatist militant groups have gone underground, and surviving leaders have embraced fundamentalist Islam.
... The family -- parents, two boys and two girls -- moved from Chechnya to the United States in 2002, said a school administrator. ... The brothers have substantial presences on social media, including Vkontakte, Russia's most popular social media platform.
===
According to Time.com, the city of Boston and surrounding areas are on lockdown Friday morning as police pursue one of two suspects in Monday's attack on the Boston Marathon, following a massive shootout in the suburb of Watertown, Mass.
12:30 p.m.: In a press conference, Massachusetts State Police said there will be a controlled explosion in Cambridge on Norfolk Street. They also said about 60 percent of the search in Watertown has been completed. Massachusetts Governor Deval Patrick (D) urged residents of Boston and Watertown to remain inside and not open doors for anyone other than a law enforcement official. Boston Mayor Thomas Menino offered some uplifting words: "We're not going to let terrorists win over. We're going to get through this. We're going to be a stronger city, and we're going to move forward."
11:45 a.m.: Ruslan Tsarni, the bombing suspect's uncle, has called on the young man to "turn yourself in" and "ask forgiveness" from the victims, the AP reports. "You put a shame on the entire Chechen ethnicity," he said in video that just aired on MSNBC.
11:00 a.m.:  President Obama met with senior aides in the White House Situation Room Friday morning, including not just his domestic security officials but also those charged with international affairs.
"Participating in the briefing are Attorney General Eric Holder, FBI Director Robert Mueller, Chief of Staff Denis McDonough, National Security Advisor Tom Donilon, Assistant to the President for Homeland Security and Counterterrorism Lisa Monaco, Deputy National Security Advisor Tony Blinken, Deputy Chief of Staff Alyssa Mastromonaco, Deputy National Security Advisor For Strategic Communications Ben Rhodes, Deputy Counsel to the President Avril Haines and National Security Advisor to the Vice President Jake Sullivan. Homeland Security Secretary Janet Napolitano, Secretary of State John Kerry, and CIA Director John Brennan joined by video conference."
Officials have still not released any information about a possible motive or the terrorist bombings. But the fact that CIA Director Brennan and Secretary of State John Kerry joined the conversation suggests that an international element to the attacks is, at least, under discussion.
10:48 a.m.: Harvard University will also be closed all day, according to a statement: "Events continue to unfold in the ongoing law enforcement search for an armed and dangerous suspect in an area not far from the Cambridge/Allston campus."
10:30 a.m.: The University of Massachusetts-Dartmouth is now closed after reports that one of the suspects is a registered student. "Individuals on campus should shelter in place unless instructed otherwise," according to a statement on the UMASS Dartmouth website.
9:55 a.m.: Amtrak has suspended all service between Boston and Providence, R.I. due to police activity. Earlier this this morning, an Amtrak train was halted in East Norwalk, Conn. while police searched for a family member or accomplice of Tsarnaev. ABC News is reporting that the situation has been mitigated and turned up no one of interest.
9:40 a.m.: The police officer killed in the Thursday night shootout on MIT's campus has been identified as 26-year-old Sean Collier, the Middlesex County District Attorney confirmed to the Boston Globe.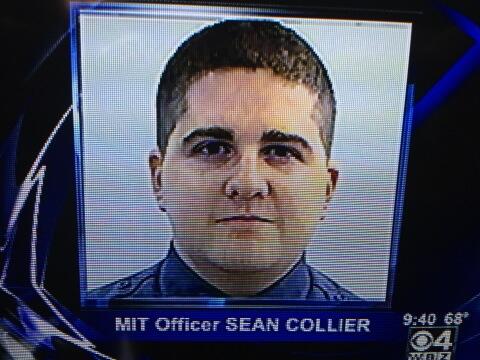 9:15 a.m.: CBS's Boston affiliate WBZ interviewed the Tsarnaev brothers' uncle Ruslan Tsarni. When the station informed him of Tamerlan's death, Tsarni said the young man "deserved it" and called him a "loser." Tsarni said he always tried to encourage the boys to focus less on Islam, and more on school, telling them to "be useful. Know why you came to America."
A second uncle, Alvi Tsarni told CBS News that Tamerlan called him yesterday: "He called me and said 'forgive me,'" he told CBS. "It's crazy, it's not possible, I can't believe he did this."
9:02 a.m.: The Massachusetts State Police asks all reporters to keep the location of the shootout under wraps.
8:20 a.m.: The FBI releases the photo of Dzhokar Tsarnaev (sic), age 19, one of the suspected Boston Marathon bombers still at-large. Dzhokhar's brother Tamerlan Tsarnaev, who the FBI refer to as suspect 1, was fatally shot overnight in a shootout near the brothers' home in the Boston suburb of Watertown. In the surveillance video released by the FBI on Thursday, Dzhokhar was seen wearing a white, backward baseball cap.
8:05 a.m.: Boston Police commissioner expands the lockdown to all Boston residents, urging all to stay in their homes as hunt for bomb suspect goes on.
6:44 a.m.: A source of the Associated Press identifies the surviving Boston bomb suspect identified as Dzhokhar A. Tsarnaev, 19, of Cambridge, Mass.
5:54 a.m.: Residents west of Boston are told 'stay home' amid search for bomb suspect.
Mass. Governor Deval Patrick recounts the events of last night's chase and declares a "massive manhunt."
5:39 a.m.: The Massachusetts Bay Transit Authority, Boston's wide-reaching subway and transit system, releases an advisory: "Attention Customers: per order of the MBTA Transit police all service is suspended until further notice. 4/19/2013 5:39 AM"
5:00 a.m.: MIT cancels classes on Friday amid the tragedy that happened on campus overnight. Their statement reads: "MIT suffered a tragedy last night: an MIT Police officer was shot and killed on our campus in the line of duty…While the circumstances around the officer's death remain the subject of an active investigation, what is certain is that the officer gave his life to defend the peace of our campus. His sacrifice will never be forgotten by the Institute. We are thinking now of his family, and our hearts are heavy. In consultation with faculty chair Sam Allen, we have decided to cancel classes today (Friday). All employees are encouraged to use their best judgment about whether they are prepared to come in to work today: any absence today will be considered excused."
4:20 a.m.: After an earlier shootout on the campus of the Massachusetts Institute of Technology that killed one police officer has left one of two suspects dead.
2:37 a.m.: A Massachusetts Institute of Technology police officer was shot and killed at the campus outside Boston, authorities said early Friday. No arrests had been made, and a manhunt was on for the shooter. The officer was responding to report of a disturbance Thursday night when he was shot multiple times, according to a statement from the Middlesex district attorney's office and Cambridge police. It said there were no other victims. The shooting took place about 10:30 p.m. outside an MIT building, according to state police spokesman Dave Procopio.
In the video below, dozens of gunshots can be heard.