by Roger Hannah - NRC Senior Public Affairs Officer, Region II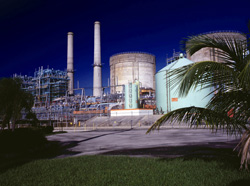 The Nuclear Regulatory Commission has dispatched additional inspectors to the Turkey Point nuclear plant south of Miami and the St. Lucie nuclear plant on the east coast of Florida in advance of Hurricane Irma. Both are preparing for the strong and potentially damaging storm – just as they have for past dangerous hurricanes.
Twenty-five years ago, Turkey Point was directly in the path of Hurricane Andrew, a Category 5 storm, and although many of the plant's structures were damaged and offsite power lines were lost, important safety equipment was safely maintained.
Florida Power & Light, the company that operates Turkey Point and St. Lucie, is working through a very detailed storm preparation procedure. That work includes checking equipment and supplies such as diesel generator fuel, securing or moving other equipment or items that might be blown around, and implementing a staffing plan to ensure enough operators and support staff are on site around the clock if roads become inaccessible.
The NRC expects to activate its regional incident response center in Atlanta, GA, on Saturday [Sep. 9, 2017] as the agency prepares for the effects of the hurricane on those nuclear plants and other NRC-licensed facilities near the path of the storm.
The Turkey Point plant staff declared an unusual event, the lowest of the NRC emergency classifications, late Thursday evening when a hurricane warning was issued for South Florida.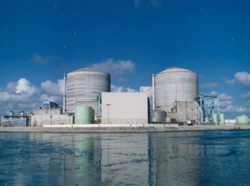 The NRC expects the St. Lucie plant staff to also declare an unusual event when that plant site is included in an expanded hurricane warning area.
In preparing for Hurricane Irma, the staff at Turkey Point, St. Lucie and other plants in the Southeast are working through severe weather procedures, including ensuring that all loose debris and equipment has been removed or secured and conducting walk-downs of important systems and equipment.
Meanwhile, the NRC's resident inspectors at the two sites are watching and ensuring company employees are following their procedures. The NRC's Region II office in Atlanta has already dispatched two additional inspectors to Turkey Point and two others to St. Lucie so the resident inspectors assigned to those sites can take care of their homes and families.
Procedures require both plants to be shut down prior to the onset of hurricane-force winds on site, and remain shut down until equipment has been checked and reliable offsite power lines are restored. The plants have diesel generators that can provide power to keep the plants in a safe condition for many days if offsite power is not available.
In addition, regional inspectors have been in contact with NRC license holders in Puerto Rico, Florida and other potentially affected states, which have responsibility for securing radioactive materials during the storm.
Hurricane Andrew and other natural events that have affected nuclear plants in past decades have provided the NRC with a wealth of experience in responding to conditions that can be expected during Hurricane Irma.
Source: NRC blog
Also see Preparing for and responding to a nuclear power plant emergency